Powerful algorithm can decode any challenging codes. Auto-tuning function enables automatic focusing and lighting adjustment. Code readers which support CC-Link IE Field Network Basic and iQ Sensor Solution (iQSS) are highly compatible with Mitsubishi Electric factory automation products.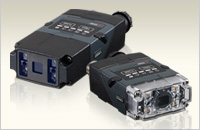 Read various codes
The code reader is equipped with 2-D code reading algorithm PowerGrid and 1-D code image processing algorithm HotBarsⅡ. PowerGrid technology provides reliable reading of challenging 2-D codes which exhibit damage to or complete elimination of the finder pattern, clocking pattern, and quiet zone. In addition, HotBarsⅡ delivers reading of reflected, damaged or poorly printed 1-D codes as small as 0.8 pixels per module.
Reliably read codes with difficult conditions
A combination of high-powered light, polarized front cover and liquid lens provides a good reading condition. Codes at long working distances, on high-speed application, on round, shiny, highly reflective, or specular surfaces can be reliably read.
Codes on the round surface.           Codes on the shiny and highly reflective surface.         Codes moving at high speed
Codes at different places and heights
With a wide field-of-view and unique algorithm, the code reader can read codes in different places and depths.
This is ideal for codes at different reading distances such as cartons with varying heights on the moving conveyor.
Easy installation reduces setup cost
Embedded autofocus function
Pressing a button on the code reader quickly sets the optimum focus automatically. Manual focus setting is unnecessary, simplifying the setup.
Integrated code reader
High-power illumination is integrated
Four high-powered red LED illuminations provide an optimum illumination condition. The code reader has integrated lighting and does not require angle adjustment of illumination. Additionally, hardware cost can be reduced by eliminating the need for separate illumination.
The code reader uses liquid lenses which do not have any moving parts that can wear out or fail, thereby reducing maintenance cost.
Customizable according to installation conditions
Configuration can be changed according to the installation space
The configuration can be changed between in-line and right-angle. By changing the configuration according to the installation space, the code reader can be installed by the wall or in tight spaces where wiring orientation is constrained.
Compact palm size
The CF26-SR is a compact size with 44.0 × 22.5 × 79.3 (mm) and can be used in a tight installation space.
High Dynamic Range (HDR) image processing
HDR imaging uses the latest CMOS image sensor technology to globally enhance image quality, resulting in greater depth-of-field, faster line speeds, and improved code handling.
With HDR technology enhancing contrast, the CF37 can read difficult codes which are unreadable with a conventional sensor resulting in low contrast images.
High resolution
The CF37 achieves higher resolution and a wider field-of-view as compared with the CF26. With its greater field-of-view coverage, one sensor can read multiple codes simultaneously as well as codes on the objects with different heights.
High-speed decoding
Equipped with a multi-core processor and high-speed engine, high-speed code reading performance has been further improved. This is useful for applications containing high-speed conveyors where product codes must be read in quick concession.