FR-A800
What is required of inverters in this constantly changing world?
At Mitsubishi, we have pursued the answer to this question through constant innovation and evolution.
Introducing our extensive range of high-value,
next-generation inverters delivering outstanding drive performance in any environment,
and a wealth of functionality covering startup to maintenance.
We utilized the traditional Mitsubishi philosophy to further perfect our inverters.
For high-quality products
High response
 ● Response speed
Real sensorless vector control 50 Hz*1 [A700:20 Hz] Vector control 130 Hz*2 [A700:50 Hz]

*1

 : At 3.7 kW with no load. Differs depending on the load conditions and motor capacity.

*2

 : The option (FR-A8AP, FR-A8AL, or FR-A8TP) is required.
Speed response: The speed response indicates how fast the inverter follows the change in the speed command. (The larger value indicates the better speed trackability.)
Line control
Line control is necessary for the machining of elongated products such as paper, thread, wires, all kinds of sheet, and tape. This will respond rapidly to changes in line speed and suppress the occurrences of winding unevenness.
This contributes to a steady supply of high-quality products.
Perform ultra-fine processing
High-speed rotation
 ● Operating frequency
Real sensorless vector control and vector control 400 Hz [A700:120Hz] V/F control 590 Hz*3 [A700: 400 Hz]
*3

 : According to the review result of the export control order about frequency changers, the upper limit of output frequency was determined to be 590 Hz for standard models.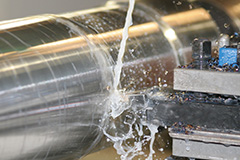 Machine tool
Cutting-edge machine tools are harder and thinner than ever before to be applicable to diverse new materials.
High-speed rotation is required more than ever before in order to be applicable for fine and precise cutting on hard and difficult-to-grind materials.
Swiftly move heavy weights
High torque at low speed
 ● Starting torque (When at 0.3 Hz)
Real sensorless vector control 200% (ND rating), Vector control 200% (ND rating) (150% of initial setting for 5.5K and higher)
 ● Zero-speed torque
Vector control 200%. (Select HD rating.)
 ● Speed control range
V/F control 1:10 (6 to 60 Hz: Driving)
Advanced magnetic flux vector control 1:120 (0.5 to 60 Hz: Driving)
Real sensorless vector control 1:200 (0.3 to 60 Hz: Driving)
Vector control 1:1500 (1 to 1500 r/min: Both driving/regeneration)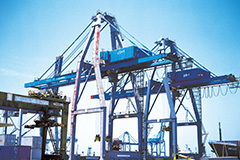 Cranes
Cranes are in operation daily at ports carrying fully-laden containers in response to strong demand from all over the world. Our new inverter realizes smooth cargo handling work at low speed and high torque for the slow and stable movements required for heavy objects.
For accurate and stable transport between machines
PM sensorless vector control
 ● What is a permanent magnet (PM) motor?
A PM motor is a synchronous motor with strong permanent magnets embedded in its rotor. The two major PM motor types are: the interior permanent magnet (IPM) motor with its magnets embedded inside the rotor, and the surface permanent magnet (SPM) motor with its permanent magnets attached on the rotor surface.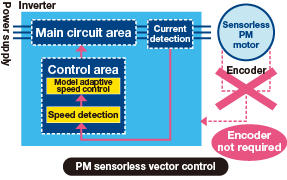 ● What is PM sensorless vector control?
The speed and magnetic pole positions, the two essential bits of information to control a PM motor, are detected without a sensor (encoder). The speed detection internally-performed in an inverter enables highly accurate control of a PM motor, almost as accurate as an AC servo system, without the need of a sensor (encoder)*4.
Combining with Mitsubishi MM-CF series IPM motors facilitates aspects of high-level control with no encoder such as "simple positioning"*5 and "zero speed torque".
*4

 : Speed fluctuation ratio: ±0.05% (digital input)

*5

 : Positional accuracy (with no load) of 1.5K and lower: ±1.8°, 2K and higher: ±3.6°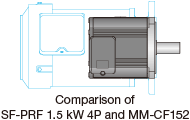 ● Easy maintenance for sensor (encoder)-less motor
 ● No additional cables means less wiring space required.
 ● Improved reliability is obtained in unfavorable operating environments. (e.g. high vibration)
 ● PM motors are usually smaller and lighter than induction motors.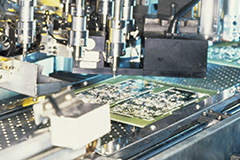 Transfer of circuit boards
The Simple positioning control delivers a precision workpiece, such as a printed substrate, to a precise position.
Transfer of fragile glass substrates can be performed with a highly accurate driving system.
Taking motor performance to the max
Induction motors and magnet motors can be combined freely
 ● The cutting-edge auto tuning function
The PM motor auto tuning function, which has been newly developed, enables sensorless operation of other manufacturers' permanent magnet (PM) motors.
Operation with all Mitsubishi Electric induction motors and PM motors, in addtion to induction motors and PM motors from other manufacturers*6, is possible. That means you need less motors for spare and stocks.
(With IPM motors other than MM-CF and PM motors manufactured by other companies, starting torque is limited to 50%, and simple positioning control and zero speed torque cannot be used even if tuned.)
*6
: Tuning may not be available depending on its motor characteristics.
 ● Low speed, high torque realized with SF-PR motor
By combining with Mitsubishi Electric's high-performance, energy-saving motor SF-PR, 100% continuous operation is possible from a low speed of 0.3 Hz for inverters of any capacity.
(when using Real sensorless vector control)
 ● Sharing the spare inverter
One spare inverter is enough for the two types of motors (IM and PM).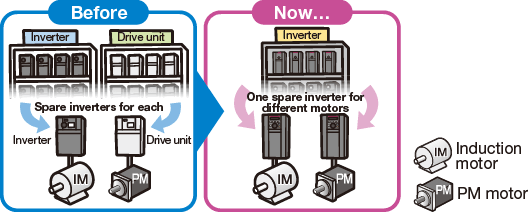 Various network compatibility brings all the control in your hand
Compatibility to various open networks
Using a controller, the inverter can be controlled and monitored via various types of network.
 ● Ethernet communication
FR-A800-E CC-Link IE Field Basic
The CC-Link IE Field Network Basic is supported, so the network can be created easily. The inverter's status can be monitored and the parameters can be set via Internet. (MODBUS/TCP is also supported.)

      2. FR-A800-GF CC-Link IE Field
The inverter has the CC-Link IE Field Network communication function, which enables immediate operation via the CC-Link IE Field Network.

 ● Other network communication
CC-Link, SSCNETIII (/H), DeviceNet™, PROFIBUS-DPV0 are supported using a compatible communication option. Other Ethernet-based communication such as the CC-Link IE Field Network communication and the FL remote communication can be also supported.
A function block (FB) programming for CC-Link communication is available for the MELSEC-Q/L series to create the inverter control sequence programs easily. (The FB library (collection of FB elements) can be downloaded from the Mitsubishi Electric FA Global Website.)
The standard model with an RS-485 interface (Mitsubishi inverter protocol, MODBUS® RTU protocol) enables communication with other devices without using a communication option.
Reduced tact time with functionality suited to the application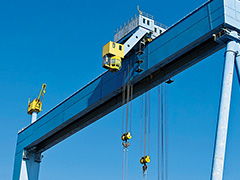 Anti-sway control
When an object is moved by a crane, swinging at the time of stopping is suppressed on the crane's transverse axis or traveling axis. This control cuts down the tact time and facilitates efficient operation.
Increased magnetic excitation deceleration
Deceleration time can be reduced without a brake resistor.
Tact time can be eliminated at conveyor lines, etc.
Selection of optimum capacity to suit the application
Multiple rating
Rated current and four different overload capacity ratings (SLD rating (super light duty), LD rating (light duty), ND rating (normal duty), HD rating (heavy duty)) can be selected with parameters. The optimum inverter can be selected to suit the application, and by selecting an inverter with SLD or LD rating, equipment size can be reduced when compared with the FR-A700 series. The HD rating is best suited for applications requiring low speed and high torque.
If using an inverter with capacity of 75K or higher, or motor with capacity of 75 kW or higher, always select and install the inverter based on the capacity of the motor with DC reactor.

PLC control with an inverter
Built-in PLC function in an inverter