GM-SSY, SSYP series
This series is the compact type that minimize the distance from the output shaft to the case end face as possible. Therefore these motors are possible to be installed easily in small-sized machines.
These motors are designed to allow both flange and face-mouting methods (0.1-2.2kW).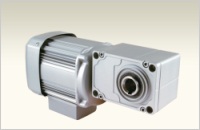 GM-SHY, SHYP series
This series complies with the load condition of service factor 1.4.
This series available for various installation methods: flange, face-mounting and foot-mounting.
And these are prepared for the wide range of gear ratios from 1/5 to 1/1440. (0.1-2.2kW)
GM-DYP series
This series is the large geared motor which is most suitable for transport of the conveyance of the heavy load.
It realizes high efficiency by adoption of spiral bevel gears.(11–37 kW).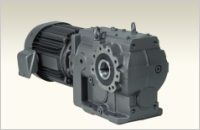 Advanced Super Helicross Series
The Super Helicross series are high-precision, super-silent geared motors that mount the first right-angle "Super Helicross Gears" (0.1 to 2.2 kW) in the industry.
This product offers many features (low noise, low vibration, long life, compact design, high efficiency) made possible through the RGC processing technique and gear meshing simulation technology.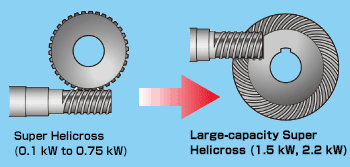 The Super Helicross series has evolved to now offer an increased capacity of up to 2.2 kW. Rotation irregularities have been prevented, to transmit power smoothly.
Reliability improved by high-quality oil seals
The results of Mitsubishi Electric's years of research on oil seals are reflected in the product. The oil seals demonstrate their excellence in high-temperature environments and during operations with frequent switching between forward and reverse directions.
The oil seals have been developed exclusively for each motor axis, realizing an output axis that provides a sealing capacity ratio 100 times greater than conventional models.
Lineup includes wide range of specifications
Our broad lineup of geared motors allows you to choose the product best matched to your needs.
GM-SSY, SSYP manufacturing scale (capacity × moderating ratio)
Standard specifications
| | |
| --- | --- |
| Voltage | 200/200/220V |
| Frequency | 50/60/60Hz |
| Installation location | Indoor |
| Mounting direction | Free mounting |
GM-SHY, SHYP, DYP manufacturing scale (capacity × moderating ratio)

Standard specifications
Voltage
200/200/220V
Frequency
50/60/60Hz
Installation location
Indoor
Mounting direction
GM-SHY. SHYP: Free mounting
GM-DYP: Horizontal mounting
GM-SSY, SSYP Series
GM-SSY Series (for uniform loads)

GM-SSYP Series (for uniform loads)

GM-SHY, SHYP Series
GM-SHY Series (for medium loads)

GM-SHYP Series (for medium loads)

GM-DYP Series
GM-DYP Series (for medium loads)