Operator role
· Production management
· Equipment maintenance
Engineer role
· Preventive maintenance
· Energy saving
· Remote monitoring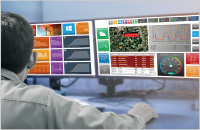 Executive role
· Business improvement
· Big data utilization
· Remote monitoring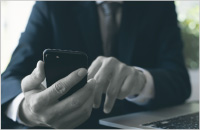 System integrator role
· Easy connectivity and integration
· Efficient engineering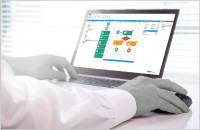 Concept
CONNECT
GENESIS64™ universal connectivity platform supports industry standard open protocol, accelerating integration of all kinds of devices, equipment, and systems, resulting in convergence of IT and OT*1.
*1. OT: Operational Technology
CONTEXTUALIZE
Asset-based organization and navigation facilitates data normalization, comparisons, and situational awareness to get to the root cause quicker through contextualized and actionable information.
VISUALIZE
Secure, real-time visualization on any device is critical to keeping operations running smoothly. GENESIS64™ scales from desktops to browsers, tablets, smartphones, and wearable devices.
DATA UTILIZATION
Improve operational productivity and quality with interactive analytics. Industry applications include OEE*2, SPC*3, energy, and fault detection to provide insight from edge to cloud.
*2. OEE: Overall Equipment Effectiveness
*3. SPC: Statistical Process Control
Improve visibility and operational efficiency – Case 01
Production and equipment status need to be monitored to achieve operational excellence
Solution
Leverage universal connectivity to visualize all related information within a fast, responsive, and intuitive graphical environment
Support for standard internet browsers and apps on Android™ and Apple® platforms
Read/write and monitoring capabilities from any device
Advanced visualization with 2D and 3D models and animations
Drive process improvements with actionable information – Case 03
Get access to relevant information when and where it is needed
Solution
Prompt troubleshooting of equipment with various functions such as related manual display and remote instruction utilizing AR
Remote instructions via voice and images
Access equipment manuals in conjunction with error details
Check troubleshooting instructions on a wearable device in real-time
Identify and address root cause issues – Case 05
Improve productivity through IT and OT integration
Solution
Integrate with enterprise systems to improve productivity through unified monitoring, control and analysis of production data
Analyze system data through integrated IT and OT systems
Transform production data into actionable information
Configure highly reliable systems – Case 08
Ensure system uptime through high availability deployment options
Solution
Provide stable operations by applying mission critical system architectures
Redundant servers ensure continuous operation even when an error occurs
Prevent overload of servers with distributed processing by multiple servers
Gain critical insight into your operations with KPIs and analytics – Case 09
Turn large amounts of data into actionable information to improve business operations
Solution
Extract large volumes of data and visualize in easy self-service dashboards
High-speed and large capacity data collection
Create templates by combining various graphical objects and data styles
Create self-service dashboards (drag and drop) on any mobile device
Manage global deployments across the enterprise – Case 10
Monitor sites worldwide in real-time to shorten improvement cycles
Solution
Integrate and collect data from widely dispersed assets in the cloud
Utilize the cloud for secure data collection and system monitoring
Unified management of data from different production sites
Remote monitoring and control via web browsers and mobile applications
Custom solutions to develop value-added services – Case 11
Connect with a wide variety of devices and systems
Solution
Enhanced connectivity enables communication with various devices, secure information exchange, and integration with third-party systems
Supports popular open protocols such as OPC™, EtherNet/IP™, BACnet®, and MODBUS®
Deliver shop floor data to MES, ERP, and work order management systems
Flexible system configuration by managing device data in a hierarchical tree structure
Enables enterprise data monitoring and control via the cloud
Reduce engineering time – Case 12
Efficiently develop systems that solve complex customer needs
Solution
Boost software scalability and rapidly deliver innovative capabilities with time-saving development tools
Reduce display creation time by importing CAD drawings of graphical assets
Develop reusable equipment and asset templates to rapidly deploy across your enterprise
Exchange information with external databases using powerful workflow technology
Simplify screen development using point-and-click tools; no scripting required
*1 Following CAD formats are supported.
3D format: XAML (.xaml), COLLADA™ (.dae), 3D Studio (.3ds), Wavefront (.obj), Autodesk® (.dwg/.dxf), Green Building XML (.gbXML)
2D format: XAML (.xaml), Windows® Metafiles (.wmf/.emf), Scalable Vector Graphics (.svg), Autodesk® (.dwg/.dxf)
Functions
GraphWorX™
Graphic creation/visualization
Stunning and user-friendly graphics can be created at a low cost using provided 2D, 3D*1 symbols and CAD data. Various displays according to applications are available, such as automatically changing displayed information according to magnification and reduction percentage and showing the entire system realistically using 3D models*1.
*1. GENESIS64™ Basic SCADA does not support 3D.
Graphic creation
Easily create graphics using various symbols, figures, and viewers provided and customer's CAD data.
Graphic visualization
Angle change and zooming of created graphics are possible. In addition, color can be added to visualize the status intuitively.
TrendWorX™
Real-time and historical trends
Visualize enterprise-wide data in trends, logs, charts, and reports with TrendWorX™. Chart real-time and historical data from any database to provide users with actionable data. Customize replay rates, colors, axis scales, and multiple cursors. Interact with trends during operation with multiple playback and filtering functions.
Data can be color-coded as a heat map*2 to make data easily visible, allowing quick analysis.
*2. Days and times when alarms most frequently occur and such can be easily understood by colors that change based on threshold values.
AlarmWorX™/AlertWorX™
Alarm visualization/notification
Notify your personnel of abnormal conditions and events in real time with ANSI/ISA-18.2 compliant features. Integrate the AlarmWorX™ Viewer into any SCADA or HMI display to bring to light real-time and historical alarms when and where operators need to see them.
WebHMI™/MobileHMI™
Remote monitoring on any smart device
Bring SCADA visualization to any device. Create displays on the desktop that can responsively scale to run on any mobile client. Leverage native apps to provide a consistent user experience on any smartphone, tablet, or HTML5 compliant web browser*3. GENESIS64™ responsive UI technology flawlessly transitions between clients to provide a consistent user experience*4.
*3. Please refer to the operating environment for supported web browsers.
*4. Please refer to "2. Select client products" of the flow of product selection for details.
EarthWorX™
Monitor widely dispersed assets
EarthWorX™, a geographic information system (GIS) mapping module, provides visualization for widely dispersed assets. Create a geographical overview to monitor multiple locations while maintaining the ability to locate and drill into specific assets. Smart Pin™ enables the status of many assets to be easily understood at a glance. Users can integrate with Google Maps™, Bing® Maps, and Esri™ to include additional GIS mapping features and data layers.
AssetWorX™
Asset management using a hierarchical tree structure
AssetWorX™ is an international standard ANSI/ISA-95*5 compliant asset management module. Map the physical world to its digital twin according to the actual structure of the enterprise, company, process, factory, line, etc. Assets can be organized and configured in the Workbench, optionally including alarms, customizable colors, icons, and drag-and-drop functionalities. The runtime component provides intuitive navigation and is perfectly suited for scaling large projects, which can be easily achieved using the Excel® based bulk asset configuration.*6
*5. International standard which defines equipment hierarchy models for physical assets in manufacturing.
*6. This is not included in GENESIS64™ Basic SCADA.
GridWorX™
Database access
GridWorX™ processes values retrieved from third-party databases such as Microsoft® SQL Server®, Oracle®, and ODBC, and displays values as tables and charts. Easily integrate with MES, ERP, work order systems, and other business applications, enabling detection and early identification of system issues.
KPIWorX™
Dashboard creation
KPIWorX™ is an application for delivering self-service executive dashboards to any desktop or mobile device, utilizing preconfigured widgets and symbols such as meters, alarms, trends, and charts for business intelligence. Get timely KPI and OEE information on any smartphone or tablet computer, or on your wrist with Apple Watch® support. Executives can quickly view insightful charts and analytics information for more proactive decision making.
Workflow
Programming by flowchart
Workflow is continuous processing based on data such as real-time or historical data values, alarm notifications, faults, and more. It can be graphically configured and executed using a flowchart built from a library of highly-customizable activities.
Workbench
Centralized project management
Workbench is the multi-functional, centralized project management tool and configuration environment for all GENESIS64™ server applications, making development more efficient and minimizing design time for any application. Configure assets and historical logging from the same screen. Users can configure and manage their entire GENESIS64™ application from any workstation.