iQ Works
iQ Works is a comprehensive software suite that contains programming software for programmable controllers, motion controllers, GOTs, etc.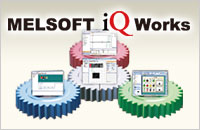 FR Configurator2
FR Configurator2 is a software supports inverter from startup to maintenance.(Compatible with the 800 series inverters)
The release version (updated) and the free trial version (usable free of charge with limited functions) can be downloaded.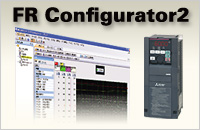 .     
From inverter startup to maintenance, this versatile software allows the user to specify settings easily at the computer.
Easy connection with a USB cable
A USB connector (Mini-B connector) is provided as standard. Easy connection to the computer without the need for a converter.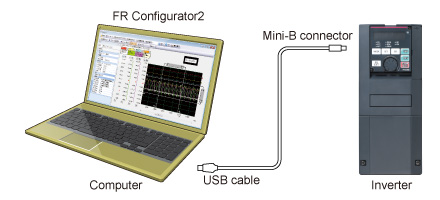 Intuitive user interface
Connected inverters are displayed in tree view format. Windows for each function can be accessed by changing the tab for maximum efficiency.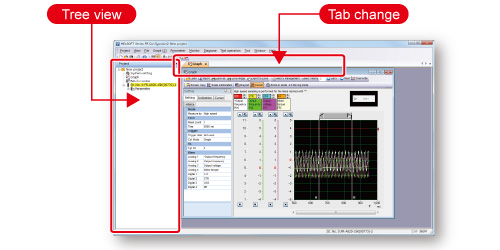 Work can be carried out away from the equipment using a USB memory device
By loading trace data and parameter settings copied to a USB memory device into FR Configurator2, analysis and adjustments can be carried out with ease away from the equipment.

Sequence control (Developer function)
The Developer function is used for creating sequence programs and writing them to the inverter to enable the use of the PLC function of the inverter.
FR Configurator
The updated version of FR Configurator SW3 to facilitate operations of inverter and sensorless servo from startup to maintenance.(Compatible with the 500/700 series inverters)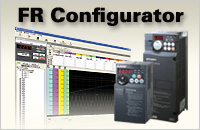 .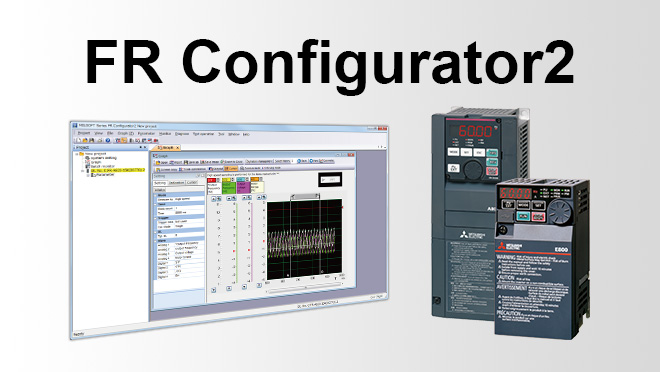 From inverter startup to maintenance, FR Configurator is software that offers an easy operating environment.
Features
FR Configurator is software that offers an easy operating environment. Can be utilized effectively from inverter setting up to maintenance.
Parameter setting, monitoring, etc. can be performed on a display of Windows personal computer.
RS-485 communication*1 is available to connect a personal computer to an inverter using a PU connector.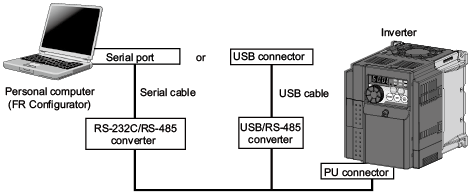 *1

 An RS-485-to-RS-232C or USB-to-RS-485 converter is required separately.
Startup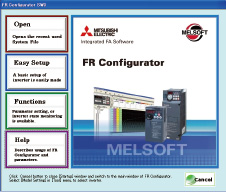 Desired function can be performed just after a start-up of the software.
Open the recent used System File
Perform Easy Setup
Perform each function
Help
Easy Setup
From station number to parameter setting, setting with wizard style dialog (interactive) is available.
Procedure for Easy Setup
System File setting
Communication setting
Inverter recognition
Control method selection
Motor setting
Start command, frequency command setting
Parameter setting
 iQ AppPortal
Manage all assets efficiently and centrally for further workload reduction!
MELSOFT iQ AppPortal is software used to manage assets integrated for each purpose, such as project files of MELSOFT products or design drawings/documents.
File registration can be operated by easy operation of drag and drop. After registration, it is easy to save and read the editing history. You can also easily get the past version of data. In addition, the workload for diversion development/management can be reduced by "Revision graph" and "Branch Creation Function". At a glance the start time of diversion, the diversion source and the diversion destination when diverting data.
Things that can be done using MELSOFT iQ AppPortal
The edit history of the assets (various types of files) can be saved!
The latest assets and previous assets can be retrieved at any time.
A warning is displayed if an attempt is made to overwrite an asset that someone else has edited!
This prevents making the mistake of overwriting the content that someone else has edited without knowing it.