Concept
Increasing speed and accuracy of equipment by synchronization of the motion control cycle with I/Os, such as a general-purpose pulse train driver, sensor I/O, and shutter I/O
■ I/O with a fastest response time of 1μs
■ Pulse I/O for synchronous control
■ High-accuracy analog I/O
■ Supporting open standard encoder I/Fs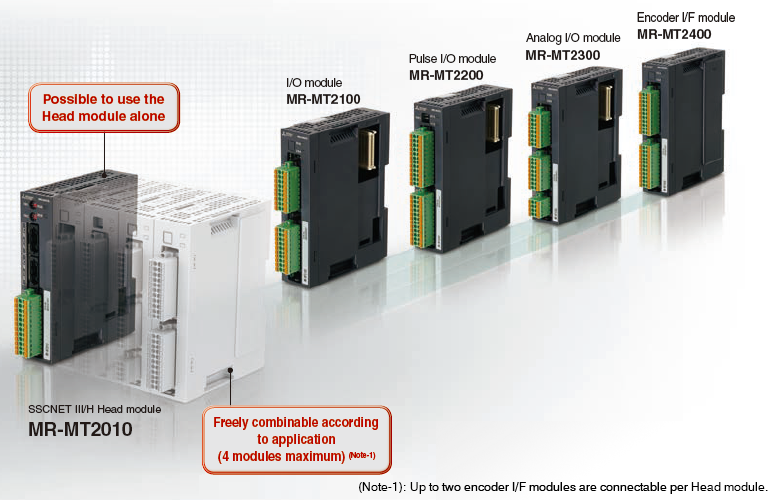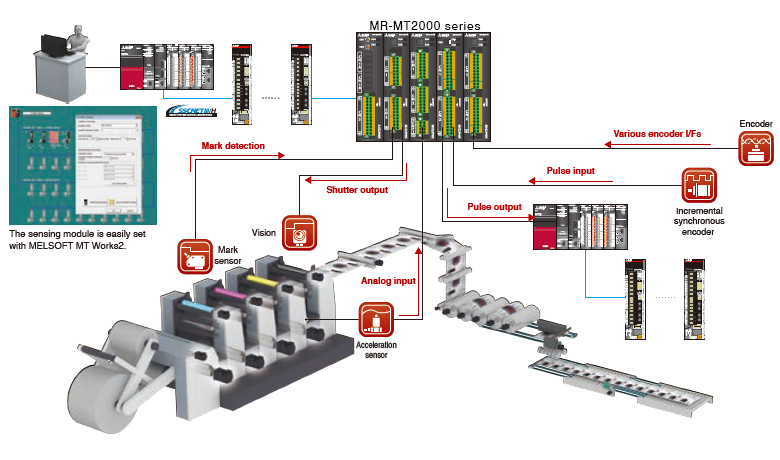 Application examples to increase speed and accuracy
Application examples with the MR-MT2000 series







Functions List
Name
Item
Specification
SSCNETIII/H Head module
MR-MT2010
Control circuit
power supply
input
Voltage
24 V DC
Permissible voltage fluctuation
24 V DC ± 10 %
Current capacity
1.0 A
Communications interface
SSCNET III/H
DI
Number of input points
12 points
Input method
Sink input/source input (photocoupler isolation)
Input response time
ON to OFF: within 1 μs/OFF to ON: within 1 μs
DO
Number of output points
2 points
Output method
Sink output (photocoupler isolation)
Output response time
ON to OFF: within 1 μs/OFF to ON: within 1 μs
Mass [kg]
0.2
I/O module
MR-MT2100
DI
Number of input points
16 points(Note-1)
Input method
Sink input/source input (photocoupler isolation)
Input response time
ON to OFF: within 1 μs/OFF to ON: within 1 μs
DO
Number of output points
16 points(Note-1)
Output method
Sink output/source output (photocoupler isolation)
Output
response time
Sink output
ON to OFF: within 1 μs/OFF to ON: within 1 μs
Source
output
ON to OFF: within 2 μs/OFF to ON: within 1 μs
Mass [kg]
0.2
Pulse I/O module
MR-MT2200
Number of pulse I/O channels
Output 2CH, input 2CH, I/O 1CH each (selectable)
Pulse output
Output signal
Differential line driver output/open collector output
Output method
Forward/reverse rotation pulse train, signed pulse train, A-phase/B-phase pulse train
Maximum
frequency
Differential line
driver output
4M pulse/s (A-phase/B-phase pulse train 4 multiples)
1M pulse/s (forward/reverse rotation pulse train, signed pulse train)
Open collector
output
200k pulse/s (A-phase/B-phase pulse train 4 multiples)
50k pulse/s (forward/reverse rotation pulse train, signed pulse train)
Pulse input
Input signal
Differential line driver input
Input method
Forward/reverse rotation pulse train, signed pulse train, A-phase/B-phase pulse train
Maximum
frequency
Differential line
driver input
4M pulse/s (A-phase/B-phase pulse train 4 multiples)
1M pulse/s (forward/reverse rotation pulse train, signed pulse train)
DI
Number of input points
7 points per axis (total of 14 points)
Input method
Sink input/source input (photocoupler isolation)
DO
Number of output points
5 points per axis (total of 10 points)(Note-2)
Output method
Sink output/source output (photocoupler isolation)
Mass [kg]
0.2
Analog I/O module
MR-MT2300
Analog input
Number of input channels
4CH
Input voltage range
-10 to 10 V DC/-5 to 5 V DC (selectable)
Resolution
± 10 V range: 0.334 mV ± 5 V range: 0167 mV
Conversion accuracy
± 0.1 % (at 25 ℃)/± 0.3 % (at 0 ℃ to 60 ℃)
Analog output
Number of output channels
4CH
Output voltage range
-10 to 10 V DC
Resolution
± 10 V range: 0.319 mV
Conversion accuracy
± 0.4 % (at 25 ℃)/± 0.5 % (at 0 ℃ to 60 ℃)
Mass [kg]
0.2
Encoder I/F module
MR-MT2400
Number of encoder channels
2CH(Note-3)
Supported encoder communications
SSI, Mitsubishi Electric serial I/F, EnDat 2.2 (Note-4)
Mass [kg]
0.2
(Note-1): When the module is used at the temperature exceeding 55 ℃ and up to 60 ℃, keep the number of points turned on simultaneously to be 14 or less for each DI and DO.
(Note-2): Two of the five points and the pulse output (open collector output) are mutually exclusive.
(Note-3): Different encoder interfaces cannot be inputted for each channel. The same encoder interface should be used for both two channels.
(Note-4): Will be available soon
Applicable controllers
| | |
| --- | --- |
| Motion CPU module | R64MTCPU, R32MTCPU, R16MTCPU |
| Position board | MR-MC200 series, MR-MC341 |
Components
Part
Model
Description
Standards
SSCNET III/H
Head module
MR-MT2010
SSCNET III/H, input: 12 points, output: 2 points
UL, CE, KC, EAC
I/O module
MR-MT2100
Input 16 points, output 16 points
UL, CE, KC, EAC
Pulse I/O module
MR-MT2200
Total pulse I/O: 2CH
UL, CE, KC, EAC
Analog I/O module
MR-MT2300
Analog input: 4CH, analog output: 4CH
UL, CE, KC, EAC
Encoder I/F module
MR-MT2400
Encoder I/F: 2CH
UL, CE, KC, EAC
Sensing module
The Sensing module increases speed and accuracy of equipment by synchronization of the motion control cycle with I/Os, such as a general-purpose pulse train driver, sensor I/O, and shutter I/O.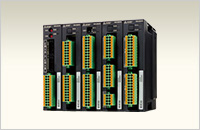 Optical Hub Unit
The optical hub unit branches a single SSCNETIII/H communication line in three separate directions.